Black Lives Matter and Antifa activists from Portland, Ore. have protested and rioted for weeks over the fatal shooting of Kevin Peterson Jr. The 21-year-old black man was killed by deputies in nearby Vancouver, Wash. in October.
Far-left activists in the Pacific Northwest have sought to paint Peterson as an innocent black victim "lynched" by racist law enforcement. There have been numerous vigils, protests and marches since his death—some of which turned violent. But just who is he really and what were the circumstances around his killing?
On October 29, Peterson was fatally shot by three Clark County deputies during a drug investigation by a regional task force. The independent investigation by the Lower Columbia Major Crimes Team in Cowlitz County says Peterson was armed with a pistol and fled on foot after being caught selling drugs. He allegedly dropped his handgun during the chase and ignored orders to not pick it up. Peterson eventually fled to a nearby U.S. Bank where he further ignored more commands. He was shot and killed after allegedly taking his 0.40 caliber pistol out of his sweatshirt. Detectives Jeremy Brown and Robert Anderson, and Deputy Jonathan Feller are named as the officers involved in the shooting.
"Deputy Anderson told investigators he believed Peterson was a threat to the public and to the containment units coming in front the north," Cowlitz County investigators said.
Peterson's death immediately reverberated across the Portland-area by activists long itching for their own Michael Brown or George Floyd. Since then, protests by BLM-Antifa have occurred weekly in Vancouver, Wash. in honor of Peterson, leading to property destruction, vandalism and arrests.
Local media reports on Peterson have been sympathetic, focusing on how he was a father of a four-month-old child. News outlets have published the same black-and-white portrait of him taken several years ago at a wedding. Activists and Peterson's family have repeated the unsubstantiated claim that he was "murdered" and a victim of "racial injustice."
Peterson was a prolific social-media user and his post history casts doubt on the martyr narrative activists continue to repeat.
Peterson frequently used racist epithets on his posts on Twitter and Snapchat. He even self-identified as a racist.
"F— white people i'm racist AF [as f—]," Peterson tweeted in June.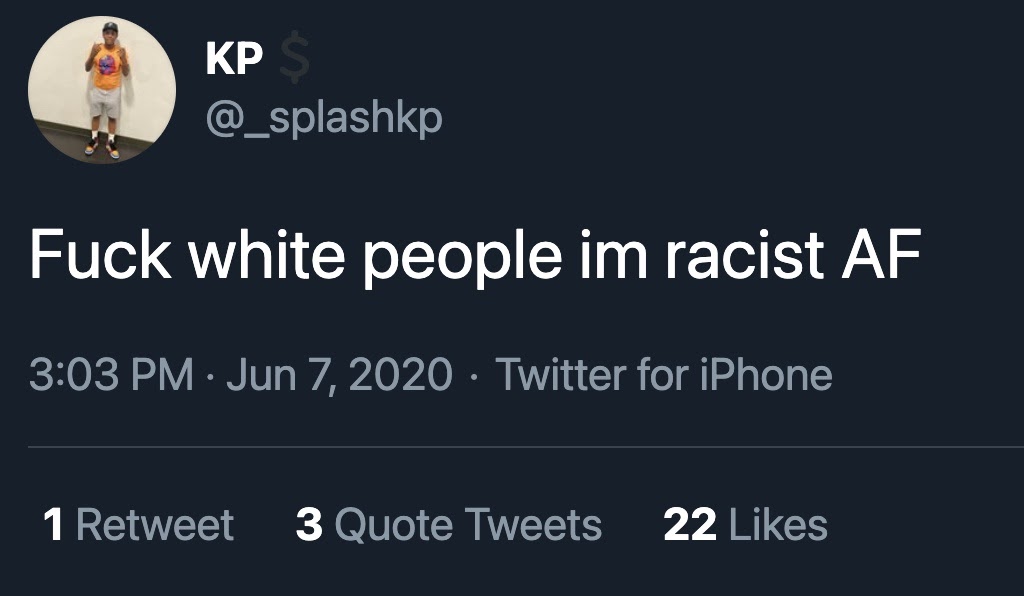 He also made numerous posts about shooting cops.
"Police pull me over Ima just start shooting before them," he tweeted in August. The Cowlitz Sheriff's office has released surveillance video and evidence that Peterson threatened law enforcement on Snapchat. "Crackers catch me n act then ima feed the law," Peterson wrote. His post included emojis of a gun firing at a cop.
Story cited here.