While it will hardly come as a surprise to anyone following China's dismal attempts at reflating the economy, which on Monday we learned translated into the lowest Aggregate Financing print since the series was established…
---
Joe Biden Orders Vaccine Mandates: 'This Is Not About Freedom or Personal Choice'
---
Anger, Grief for Family Members of 13 US Troops Killed in Afghanistan
---
Biden Punts to Congress on Voting Rights, Abortion as Radicals Fume
---
Source: Bloomberg
… reaffirming Beijing's impotence at stimulating the all-important credit impulse which is barely above cycle lows…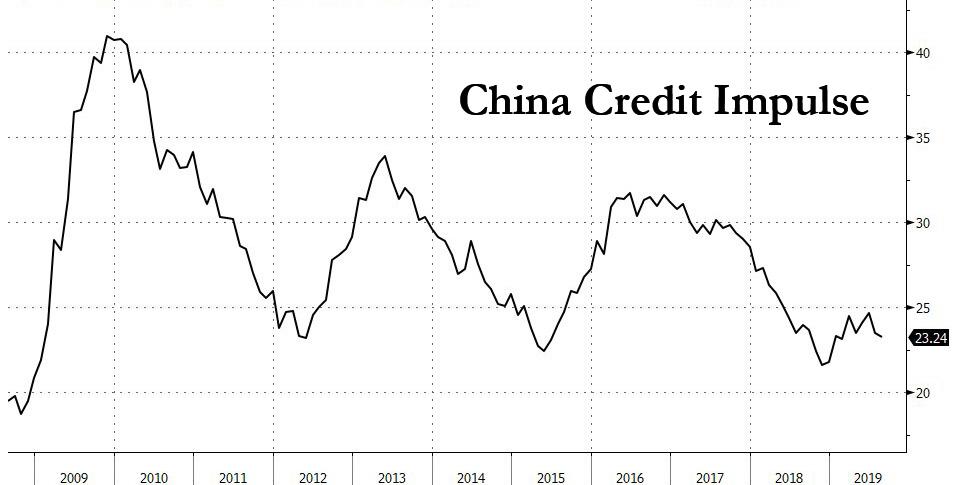 ---
Congressman Announces He's Sponsoring Articles of Impeachment Against Biden
---
WH Official 'Appalled, Horrified' Biden Left Americans Behind
---
Trump Issues Damning Statement About 'Justice for J6' Rally: Patriots, Don't Go
---
Source: Bloomberg
… tonight's macro data dump from China is expected to show continued slowing from Q3's disappointing GDP print.
Bloomberg Economics' Chang Shu notes that the October activity data are likely to show weakness continuing to spread across China's economy, as companies adjusted to an additional 15% U.S. tariffs on $110 billion of Chinese goods in September.
China Industrial Production MEET +5.6% YoY vs +5.6% YoY Exp
China Retail Sales MISS +7.2% YoY vs +7.8% Exp
China Fixed Asset Investment MISS +5.2% YoY vs +5.4% Exp.
China Property Investment FELL to +10.3% YoY from +10.5% YoY
China Surveyed Jobless Rate FELL to 5.1% from 5.2%
---
SCOTUS Lets Texas Six Week Abortion Ban Stand
---
GOP Sen. Barrasso: US Armed Taliban 'to Fight Now on Steroids'
---
US Expects to Admit More Than 50,000 Evacuated Afghans
---
This is the equal weakest retail sales growth since 2003 and weakest Fixed-Asset Investment growth since 1998..
Source: Bloomberg
This data confirms that China's economy slowed further in October, signaling, as Bloomberg's Miao Han notes, that policy makers' piecemeal stimulus is failing to boost output and investment amid ongoing trade tensions with the U.S. and subdued domestic demand.
As a reminder, there was the surprising divergence in the two manufacturing PMI readings, with the "official" version weakening, and the Caixin-labeled version strengthening.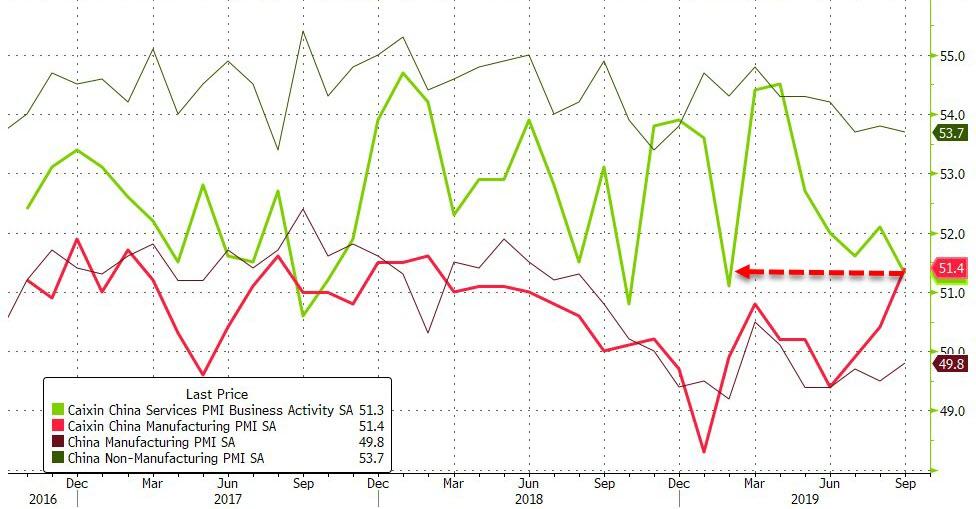 ---
Rep. McCarthy: GOP Will Remember Companies That Turn Over Info to Jan. 6 Panel
---
Protester Wearing Gorilla Mask Throws Egg At Recall Candidate Larry Elder
---
Biden Punts to Congress on Voting Rights, Abortion as Radicals Fume
---
Source: Bloomberg
Dow futures are exuberantly surging overnight as yuan continues to slide – disagreeing vehemently over the chances of a US-China trade deal after their joint celebrations last week…
Source: Bloomberg
Finally, as we just noted, The National Institution for Finance and Development (NIFD) on Wednesday said that China's economic growth rate will slow to 5.8% in 2020 from an estimated 6.1% this year, a number which is already quite ambitious, not to say artificially goalseeked.
---
California Recall: Polling Center Tells Some Republicans They 'Already Voted'
---
Bolton Blames Trump for Afghanistan Chaos — 'Negotiated This Deal Only with the Taliban'
---
Politico confirms Hunter Biden laptop emails after media declared story 'Russian disinformation' amid election
---
This, as the SCMP notes, is at the bottom end of China's target range of 6 to 6.5% growth for 2019, and further indicates the continued downward pressure on the economy from the trade war with the United States as well as domestic headwinds.
"The economic slowdown is already a trend," said former central bank adviser Li Yang, who heads the institute that is affiliated to the Chinese Academy of Social Sciences (CASS).

"We must resort to deepened supply-side structural reform to change it or smooth the slowdown, rather than solely rely on monetary or fiscal stimulus."
The institute's forecast is in line with the International Monetary Fund, and indicates the challenge that policymakers face to achieve the above 6% growth rate needed in 2019 and 2020 to reach the government's goal of doubling GDP in 2020 compared to its 2010 level.
As a reminder, a GDP growth rate below 6% would be the first time since the aftermath of the 1989 Tiananmen crackdown.
Finally, we note that Navarro and his trade hawks in the White House will be pleased at these weak numbers. President Trump has repeatedly said that China needs a deal more than the U.S. does, and these numbers as leverage in their negotiations.
Story cited here.