The massive earthquakes that hit Syria and Turkey over the weekend have killed at least 2,400 people, but the death toll is sure to drastically rise with "tens of thousands of citizens… waiting under the rubble" in Hatay alone.
Turkey's CHP opposition party deputy for Hatay, Serkan Topal, surveyed the damage in his shattered province.
CHP Hatay Deputy @serkantopalchp: "There is not a single building that we can sleep inside tonight. Tens of thousands of citizens are waiting under the rubble. There are cities and places no team has arrived" pic.twitter.com/esbb5REfb5

— Amichai Stein (@AmichaiStein1) February 6, 2023
The first quake struck at 4:17 local time Sunday morning near the Turkish city of Gaziantep close to the border and registered 7.8 on the Richter Scale. The second quake registered 7.5 and hit near Kahramanmaraş nine hours later. There were multiple aftershocks, with one as high as 6.5.
Here's a brief video taken in Antakya where almost nothing appears left standing or at least undamaged.
Industrial and business area in Antakya. Nothing is standing. Looks like some parts of Syria pic.twitter.com/U6oHxr8Oul

— Ragıp Soylu (@ragipsoylu) February 6, 2023
Some buildings might appear fine at first only to collapse hours later.
This BBC footage is from the Haliliye district in Sanliurfa, Turkey. The suddenness of the collapse shocked me — even though I'd read the caption before clicking play.
Building collapses in Turkey after deadly earthquakehttps://t.co/ScGVHEwnbc pic.twitter.com/myqUhdLrao

— BBC News (World) (@BBCWorld) February 6, 2023
Here are two more.
The footage coming out of Turkey is terrifying. pic.twitter.com/IdkPd9XIwI

— Mark (@markmaycot) February 6, 2023
Now for a longer series of clips collected from various sources.
In my country, Turkey, there have been earthquakes that have been continuing since last night, leaving great damage. Thousands lost their lives. The others die from cold weather and lack of help. Everyone lost their family. WE NEED YOUR HELP PLEASE RTWEETpic.twitter.com/9z69TsxlE1

— nik ki⁷🍇 (@meliodasima) February 6, 2023
Further away on the Mediterranean coast, a small tsunami hit.
#Tsunami and Earthquake in Turkey. #earthquake #earthquakeinturkey | #زلزال_ترکیا #İstanbul #Syria #Lebanon #Deprem #Gaziantep #iskenderun #sanliurfa #Enkaz #ACİL #DEPREMOLDU #زلزال #تركيا #لبنان #BreakingNews #Şanlıurfa #Syrian #TurkeyEarthquake #Gaziantep #Tsunamialert pic.twitter.com/R1sCfqotHl

— Harish Deshmukh (@DeshmukhHarish9) February 6, 2023
If anything, the situation in northern Syria might be even worse.
"Anywhere else in the world this would be an emergency," said Mark Kaye, spokesman for the International Rescue Committee, quoted by the New York Times. "What we have in Syria is an emergency within an emergency."
The north of Syria is already afflicted by the war and lacks the basic necessities of life. This young man is crying out, "We do not have rescue teams. People are dying under the rubble. We cannot remove them."
Help us#Syria #Turkiye #هزة_أرضية pic.twitter.com/ipsPAEzb2n

— عبد الحي (@b9d_l) February 6, 2023
The civil war there is now in its 12th year. It's no stretch to say that Syrian building codes were never up to Western standards, and the country's infrastructure has been subjected to more than a decade of fighting, shelling, and airstrikes.
The situation in northwest Syria is desperate pic.twitter.com/bjSPF3X6iG

— Ukraine Will Win (@tomaburque) February 6, 2023
I decided not to share some videos and photos in this column; they were just too heartbreaking.
There have also been some real miracles, like the one below.
A young girl has been rescued alive. Miraculously, the girl did not even get a scratch under the debris 😱.

Pray for Turkiye, Lebanon & Syria. #İstanbul pic.twitter.com/R5rLw8PSdA

— Anas Kashmiri 🇵🇰🇸🇦 (@anaskas480) February 6, 2023
Turkish President Recep Tayyip Erdoğan said on Twitter that "search and rescue teams were immediately dispatched" to the area. Syrian President Bashar al-Assad held an emergency cabinet meeting, but there hasn't been much more news than that out of the capital.
Here's the USGS map of the first quake. The most devastated area stretches about 200 miles from the Hatay region near the Turkish coastline/Syrian border, going northeast to Malatya.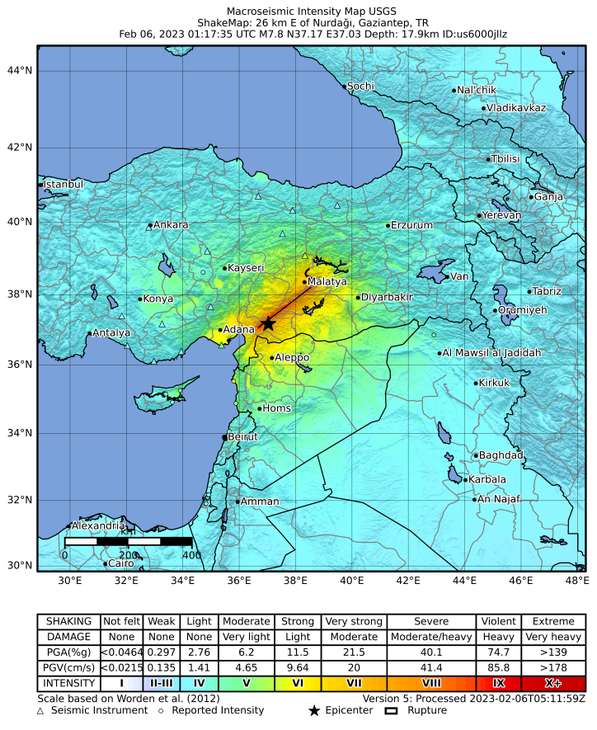 If you pray, the people all along that line — and their friends and families spread far and wide — sure could use it right now.
Story cited here.
→ What are your thoughts? ←
Scroll down to leave a comment: