No room at the inn? Residents of Martha's Vineyard, a haven for wealthy Democrats, liberals, and Blue Anons, had their chance to put their money where their virtue-signaling lawn signs are and embrace 50 illegal immigrants, hilariously flown in by Florida Gov. Ron DeSantis. Instead, they relied on the military to have them "deported" to a Massachusetts National Guard Base on Cape Cod, another vacation destination for the well-to-do, though not as luxurious as Martha's Vineyard, where Barack Obama owns a massive $12 million mansion.
Simpsons predicted Martha's Vineyard incident back in 1954! https://t.co/LhKztfawIx

— 𝒏.𝒖. 𝒃𝒂𝒕𝒖 (@qtomris) September 15, 2022
Martha's Vineyard took roughly 44 hours to exile the immigrants to the mainland. Residents claimed they didn't have room for the 50 travelers. Let's check Hotels.com and Airbnb for the reality.
Airbnb tells us that there are currently 66 homes open as of the publication of this article. Each immigrant could relax in style after his or her long journey from the socialist toilet that is Venezuela, in his or her own stunning house, some with "a modern touch & traditional feel overlooking Vineyard Haven Harbor" or an "easy walk to the fun in Oak Bluffs."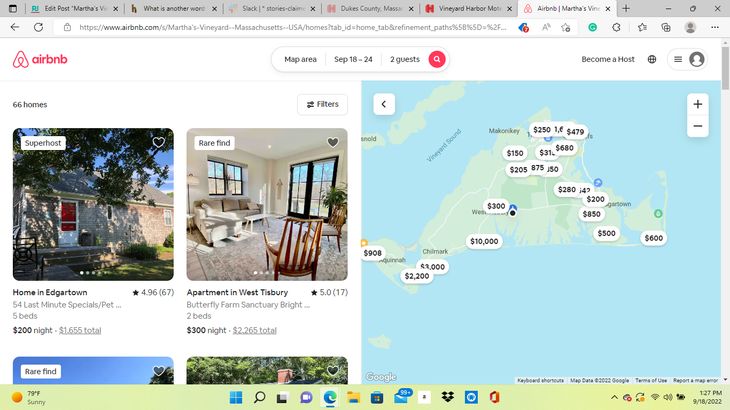 → What are your thoughts? ←
Scroll down to leave a comment: