While addicted to drugs, cavorting with prostitutes, and making deals with businessmen tied to the highest levels of Chinese intelligence, Hunter Biden lived in the house where Joe Biden stored classified documents.
On a background-check application dated July 2018, Hunter Biden claimed that he paid $49,910 per month in rent and that his "current residence" at that time was 1209 Barley Mill Road in Wilmington, Delaware, according to a document found on Hunter Biden's abandoned laptop.
Hunter also listed that Wilmington address as his primary residence on at least one form of identification (his Delaware driver's license) and used the same address as his billing address for both his personal credit card and Apple account in 2018 and 2019, a review of files from Hunter's abandoned laptop reveals.
According to the background check document, Hunter claimed that he paid rent from March 2017 until February 2018 (11 months) at the Wilmington address leading some to wonder if he was paying rent to his father, who has owned the home since 1996. But Hunter apparently filled out the form in error.
Contrary to some reporting, Hunter Biden was not paying his father $49,910 per month; rather, that figure represents the amount Hunter was paying to rent prime office space at the prestigious House of Sweden in Washington, D.C., materials in Hunter's laptop show.
Nevertheless, the period that Hunter claimed he was living at 1209 Barley Mill Rd (the Wilmington house where classified documents were found) overlaps with the time multiple Biden family members were taking money from foreign businessmen linked to the highest levels of the Chinese Communist Party (CCP) intelligence apparatus.
Hunter claimed on various documents and financial statements that he lived at the Wilmington House between early 2017 and 2019—immediately following his father's second term as vice president and as Joe Biden was gearing up for his presidential run.
Given the discovery of the classified documents at multiple unsecure locations, the timeline of the Bidens' Chinese business deals paints a troubling picture.
Beginning in late 2015, while his father was still vice president, Hunter Biden began making plans to meet with officials from the Chinese energy company CEFC. CEFC and at least four of its principals and associates, Ye Jianming, Patrick Ho, Gongwen Dong and Jiaqi Bao, have been linked to the Chinese government and its military intelligence apparatus. Hunter once described Patrick Ho as "the fucking spy chief of China."
Many observers viewed CEFC as a state-directed entity. CNN, for example reported in 2018:
From the yellow stars in its logo to the fact it had China in its name – a privilege normally reserved for state-owned companies – CEFC China Energy's messaging strongly suggested state ties.
By early 2017, Hunter was directly corresponding with CEFC personnel and flew to Miami in February of that year to meet with CEFC Chairman Ye Jianming. During this trip, Ye Jianming gave Hunter a 3.16 carat diamond valued at approximately $80,000.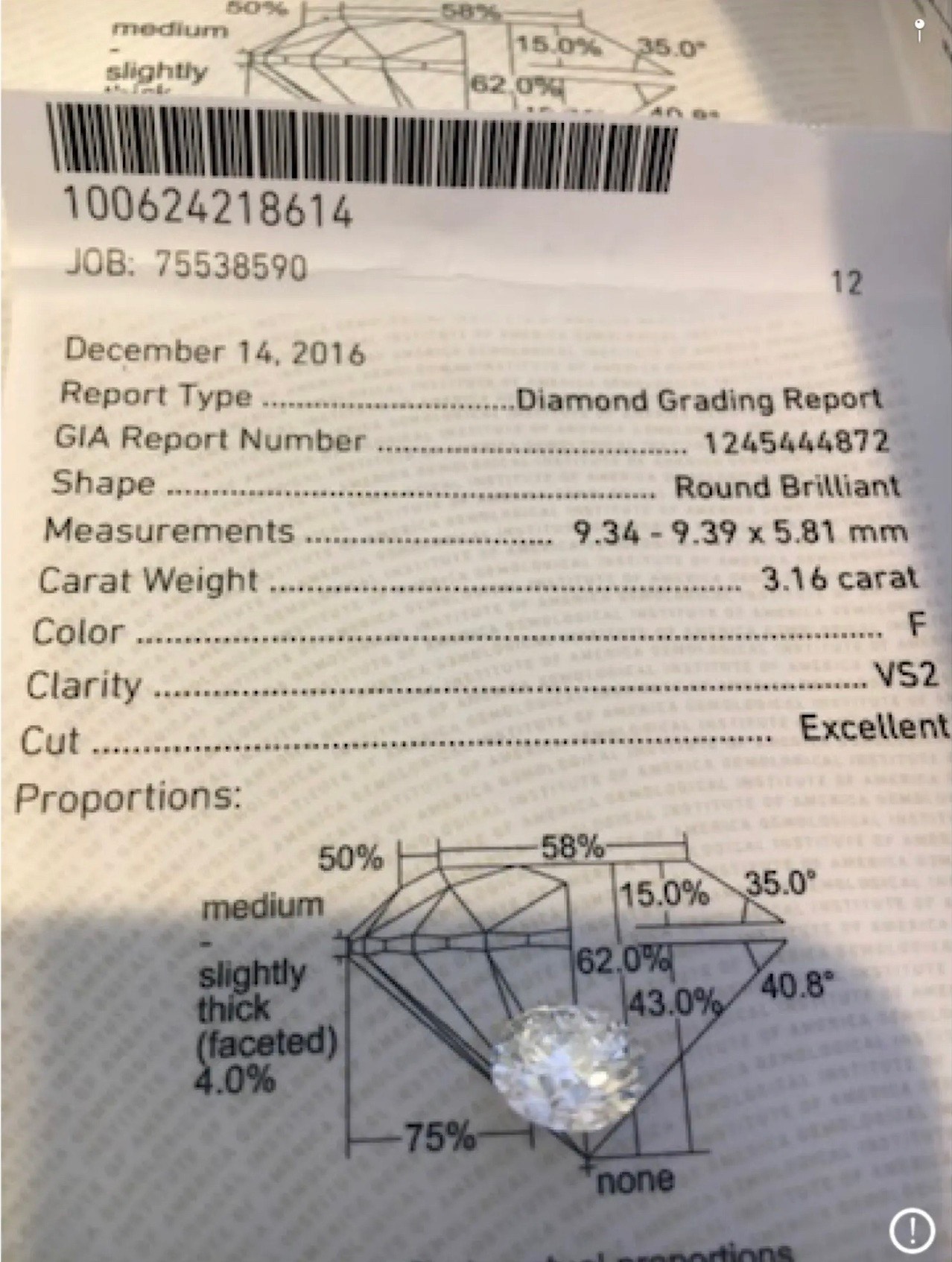 When Hunter's ex-wife discovered that he had obtained something of such immense value, she had her divorce attorney send an "Urgent" email seeking to determine the whereabouts of the diamond and secure the asset before Hunter could "dissipate" it. Hunter's attorney offered a shady denial:
There is no diamond in Hunter's possession. I don't know where Kathleen is getting access to this information, but on this score, what your email purports below is inaccurate.
Metadata gleaned from photos of the diamond on the abandoned laptop indicate that Hunter lied about not having the diamond and he in fact had the diamond with him in Wilmington. The current location of the 3.16 carat diamond remains unknown.
After the fateful February 2017 meeting with Ye, and around the time Hunter claimed to have moved into the Wilmington house where classified documents were found, the Bidens' business with CEFC exploded.
Nine days after Miami meeting, Hunter received two separate wire transfers of $3 million which the Department of Treasury's Financial Crimes Enforcement Network flagged as suspicious.
Between April 2017 and September 2018, CEFC and its affiliates funneled millions of dollars to the Bidens (mostly to Hunter, but some of that money flowed to Joe Biden's brother and sister-in-law, James and Sara Biden). Joe Biden met with Hunter's business partners during this time. All the while, top secret and sensitive compartmented information documents were just lying around in unsecured locations (such as the closet of the Penn Biden Center and the Wilmington garage), easily accessible by the Bidens and their associates.
James Biden, Joe's brother, was central to the Biden business dealings with CEFC. One of Hunter's former business associates, Tony Bobulinski, messaged another associate, James Gilliar, on April 30, 2017, wondering "what is the deal [with] Jim Biden as he wasn't part of the discussion and now seems a focal point." Likely alluding to Hunter's addictions, Gilliar replied:
[With Hunter's] demons, [it] could be good to have [Jimmy as] a backup…he strengthens our U[nique] S[elling] P[roposition] to [the] Chinese as it looks like a truly family business. [Emphasis added]
Bobulinski met with Hunter, James, and Joe Biden for at least an hour on the evening of May 2, 2017, and he alleges that they discussed the Biden family business dealings in China with which the former vice president was "plainly familiar."
On May 13, 2017, Gilliar emailed Bobulinski an equity breakdown of a new business venture involving CEFC wherein Gilliar proposed Hunter will hold a 20 percent equity stake and 10 percent will be held by Hunter for "the big guy." Tony Bobulinski alleges that Joe Biden is the big guy.
According to messages Bobulinski provided to congressional investigators, Hunter claimed he talked to Ye on a "regular basis" because "we have a standing once a week call as I am also his personal counsel (we signed an attorney client engagement letter) in the U.S." Hunter also claimed he was advising Ye "on a number of his personal issues (staff visas and some more sensitive things)."
The chairman of CEFC, Ye Jianming, has been linked to the highest levels of Chinese intelligence and CNN reported that Ye was a suspected "princeling" of People's Liberation Army top brass.
In their summer 2017 correspondences, Hunter sent "best wishes from the entire Biden family" and Ye concluded his reply "please accept my best regards to you and your family."
Between February 9, 2017, and December 20,2018, tens of millions—perhaps more than $150 million—flowed between a dizzying web of CEFC-linked companies and shell corporations. And some of that money went directly into Biden family coffers.
On August 8, 2017, CEFC wired $5 million to an entity called Hudson West III. That same day, Hudson West began wiring payments that would ultimately total $4,790,375.25 to Hunter Biden's Owasco LLC. The last payment was on September 25, 2018, according to congressional investigators. Between August 14, 2017, and August 3, 2018, Owasco sent 20 wires totaling $1,398,999 to James and his wife Sara Biden's consulting firm.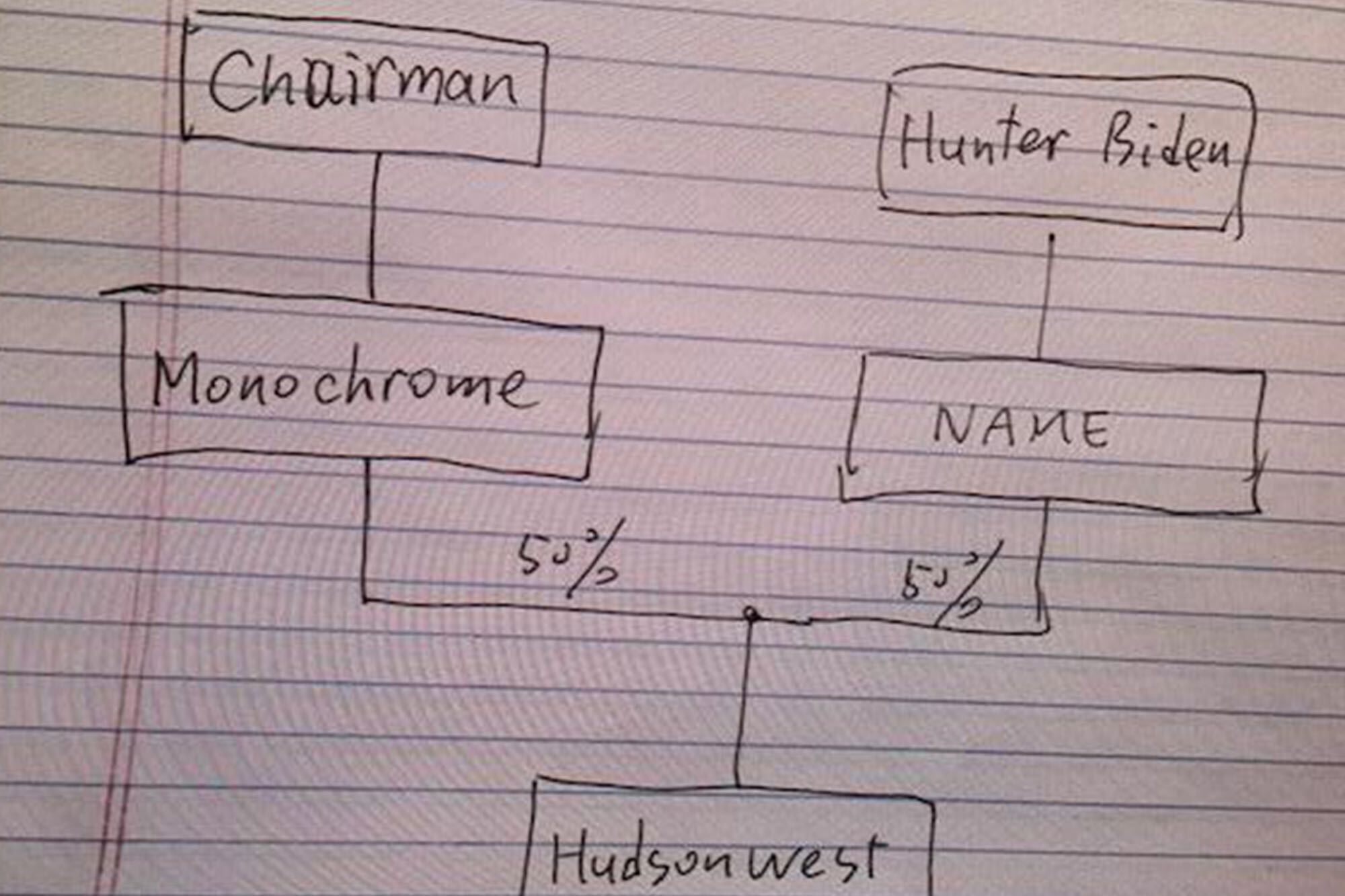 Throughout the summer of 2017, as the CEFC arrangements were being hashed out, Hunter talked with Ye Jianming about the impending legal troubles of another CEFC principal, Patrick Ho (the "spy chief").
In September 2017, Hunter agreed to represent Ho and executed an agreement to provide "Counsel to matters related to US law and advice pertaining to the hiring and legal analysis of any US Law Firm or Lawyer." Hunter was ultimately paid $1 million through his Owasco LLC (the wire transfer memo line read "Dr Patrick Ho Chi Ping Representation") to represent Ho.
Patrick Ho was arrested on November 18, 2017 and he was convicted in December 2018 on international bribery and money laundering charges, according to the New York Times. Upon incarceration, Ho's first phone call from jail was to James Biden. He was looking for Hunter and James Biden gave him Hunter's contact information.
Notably, Hunter Biden had never been a serious attorney, so his receiving one million dollars to represent Ho is notable given that Hunter was apparently living in a house with classified documents at the time.
The same month that Hunter executed the representation agreement for the Patrick Ho matter, September 2017, CEFC-linked companies provided three separate credit cards for Hunter, James, and Sara Biden. These credit cards allowed the Bidens to go on extravagant shopping sprees and the racked up more than $100,000 in purchases.
Also in September 2017, Hunter Biden leased the plush office space at the House of Sweden for an entity called the Biden Foundation and for a CEFC branch. A September 2017 email shows Hunter requesting keys to the building for Joe Biden, Jill Biden, Jim Biden, and "Chairman Ye CEFC emissary." It was here that he paid $49,910 per month. in rent.
And it was at this time that Hunter claimed 1209 Barley Mill Road as his residence. That home, owned by Joe and Jill Biden, is where Joe Biden kept the sensitive documents next to his Corvette in the garage ("so it's not like [these classified documents] were just sitting in the street," Biden said in his own defense last week).
By spring 2018, the business with CEFC was beginning to fall apart. Patrick Ho was tainted by his international bribery charges and Ye Jianming was under investigation in China for "suspected economic crimes," and had essentially vanished after detention by CCP officials.
In a now famous January 2019 text message, Hunter complained to his daughter Naomi that Joe Biden (whom the family called "Pop") had demanded half his (Hunter's) salary for decades:
I hope you all can do what I did and pay for everything for this entire family [for] 30 years. It's really hard. But don't worry unlike Pop I won't make you give me half your salary.
Joe Biden benefitted from Hunter's business dealings which helped to finance father's monthly bills, paid for repairs to the Barley Mill road estate in Wilmington, and bankrolled the office space for Joe and Jill Biden's foundation at the pricey House of Sweden complex.
My colleague Peter Schweizer's runaway bestseller, Red Handed: How American Elites Get Rich Helping China Win, first revealed that the Biden family received some $31 million from the highest levels of Chinese intelligence at the same time Hunter was paying the vice president's bills. Schweizer believes that there is a slam dunk case to indict Hunter Biden.
The latest developments involving apparent mishandling of classified information underscore the gravity of the ongoing Biden corruption scandals.
Story cited here.
→ What are your thoughts? ←
Scroll down to leave a comment: